THE WAY OUT
Code requirements for egress
An egress window is large enough for entry or exit in case of an emergency. If you're finishing a basement or adding a bedroom, you may want to take into account the building code for both safety and resale value. Does that mean a basement bedroom without an "egress-able" window is a big problem? Not necessarily. Peer agents, appraisers, and builders alike can't seem to agree on how important a code-adherent bedroom is for tax and/or market value—but if you have the opportunity to add a larger window + exterior window well or upgrade, why not suss it out?
Here are the requirements per the International Building Code (and Seattle's Department of Construction and Inspections):
Minimum width of opening: 20 in.
Minimum height of opening: 24 in.
Minimum net clear opening: 5.7 sq. ft. (5.0 sq. ft. for ground floor)
Maximum sill height above floor: 44 in. (can also be achieved with a built-in step in many cases)
Curious what it would take to make your retrofit your bedroom window? Start with a contractor who does foundation and/or general contracting work and get multiple quotes! Hoffman Rebuilding, After the Fire Construction, and Wu Construction are my go-tos. What are yours?
Here are some more helpful notes on finishing your basement/adding the right windows from Hammer & Hand Construction, Owen Henry Windows, and GreenBuilt NW.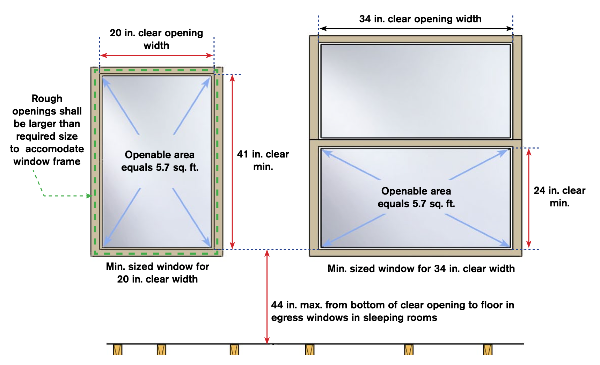 While we're talking planning...with contractors scheduling months out and remodel prices higher than ever, it pays to figure out exactly what you want before you embark on a project while being flexible later. I highly recommend starting with a floor plan (done by an appraiser or photographer) or "as-built sketch" (done by an architect, engineer, or house designer). The former costs as little as $150 and allows you to get a general sense of space/layout and play, while the full as-built may be sufficient for builders to use for their work (and may be several hundred or up to $2000). Either way, it pays to visualize that layout you *think* will be perfect. In the case of my house, Grant and I took several iterations to get the right flow for our daylight basement. Ping me for floor plan resources!